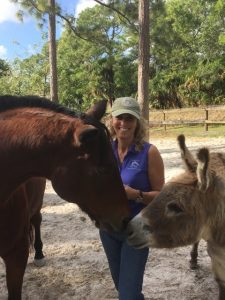 Mary grew up in the Ohio countryside loving horses. A trait passed down from her "Tennessee farm boy" father. Yearly summer trips to Tennessee and West Virginia always included fun rides and adventures with the family horses (especially at the Tennessee Walking Horse Farm). She finally got her first Pinto pony, Princess, at age 8 then had a Paint horse. Mary enjoyed pleasure riding and "playing" until she moved to Florida shortly after HS graduation. Life intervened and she moved away from horses until her young daughter became obsessed at the age of 3. That's all it took to refuel her desire as well. After about of driving her daughter around to lesson horses, came the purchase of her horse (Appendix), a horse trailer, then a second horse (QH), and hauling her daughter to lessons, shows, trail riding together and with friends.
It was Mary's purchase of her three and a half year old "wanna be stallion" Appendix in July, 2000 that led her to natural horsemanship to seek and find the partnership she had remembered from her youth. That process of reading the horse, speaking their language and "less is more" approach sparked a desire to further learn more about helping the horse in a non-invasive way.
Mary became a Certified Sports Massage Therapist in 2004 and started attending a multitude of related courses. Life again intervened when Mary entered the corporate world. She was soon spending more time inside than out and one day realized the need to feed her passion when she rediscovered The Masterson Method near the end of 2012 and immediately signed up for the next 2-day course offered in Florida which was February 2013. Jim's technique was a great fit, the perfect marriage and natural progression to her horsemanship principals. She formed her company, "Hands-On" Equine Services, Inc., in January 2013, took the 2-day seminar in February, signed up for the next Florida 5-day advanced course offered in December and vowed to be certified within the following year. She met that goal and hasn't looked back since. Mary wholeheartedly believes in her motto, "It's all about the horse!", and continues to educate herself to better serve them.
Mary currently has clients ranging from backyard, rehab and multi-disciplined. She also gives back to some very special horses by donating her services to the Healing Horse Therapy Center which provides equine-assisted therapy and psychotherapeutic programs to Veterans and special needs individuals.