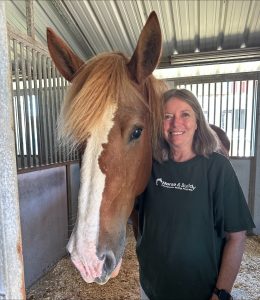 Mary has always had  a love of all animals, and a special fascination with horses. She had two horses during childhood, and the memories of Mr. Ed and Chico hold a special place in her heart. Upon retiring from the land planning field in local government, Mary knew she wanted horses in her life once again.
She began volunteering with Horse and Buddy Therapeutic Riding, and taking riding lessons. Contributing to horse care for a herd of 10 was a dream come true!
Mary was introduced to the Masterson Method® by observing a session with one of the therapy horses. She was intrigued with the level of relaxation and release in the horse while the practitioner seemed to be doing so little!  Her certification journey began that evening with ordering a book and watching a video, to try and understand just what the practitioner was doing to achieve such results.
Mary is thrilled to regularly offer Masterson Method® to the herd at Horse and Buddy and support them in living their best lives. These special horses work hard for their riders, and it is an honor to give back to them in return. She would love to offer this work to horses in other non-profit therapeutic riding programs or rescue organizations.