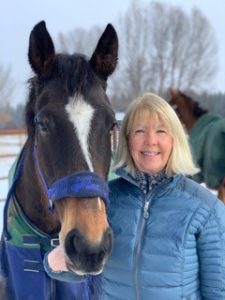 Mary's intense love of horses, her natural comfort around animals and four decades of equine knowledge blend perfectly with The Masterson Method®.  She was profoundly influenced by Dr. Sid Erickson a veterinarian chiropractor she had hired for her horses and dogs for over two decades.  But it was after discovering Jim's book, that she attended a weekend seminar and soon changed the direction of her life toward equine body work.  Her passion changed from riding horses to helping horses.
She took several years to complete her certification but was always working on horses, always learning and slowly following a path toward becoming a Masterson Method® practitioner.
Mary's riding experience in show jumping, eventing, classical dressage and recently working equitation provides added insights into the biomechanics of equine athletes.  She is passionate about continuing her education.  Watching webinars sponsored by Masterson Method® and attending advanced anatomy courses.
As a Masterson Method® Certified Practitioner her goal is to provide a wholistic approach for her clients.  Listening and asking questions.  Gathering as much information as possible to better serve the horses she works on.   Always working toward a successful outcome for owner and horse.  She prefers a team approach when possible and is willing to work and communicate with her clients riding instructors, farriers, dentists, veterinarians and saddle fitters.  This collaborative approach has been very successful for her clients.
Mary lives on a small ranch in the beautiful Bitterroot Valley of Montana and works on horses and ponies in a variety of disciplines.
She serves the surrounding Stevensville area and offers reasonable travel rates.