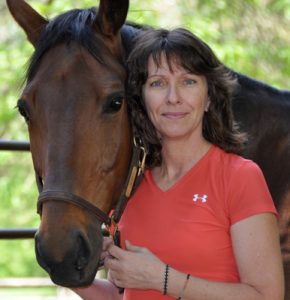 Marie Riley has been a Certified Equine Sports Massage Therapist since 2006 and a Masterson Method Certified Practitioner and Instructor since 2010.
Since training in The Masterson Method® she has worked on horses that compete on the FEI level in Show Jumping and Endurance, a 2011 FEI North American Young Rider/Junior Championship Dressage Silver and Bronze Medalist, Barrel Futurity Championship competitors, and horses in training with author of the book 101 Dressage Exercises for Horse and Rider, Jec Ballou.
I became a Masterson Method® Certified Practitioner in January 2010, and an MM™ instructor in May 2011 … and haven't looked back! My journey continues to be an amazing adventure passionately dedicated to the art and education of understanding the horse. I have had the privilege to study, learn and work with an inspiring and supportive community of equine professionals, and I'm happy to report that the adventure continues!
When I first entered the equine bodywork arena in 2006, equine massage was just about the only modality available to the average horse owner. Since time, funds, skill and understanding were limited I forged ahead and became a Certified Equine Massage Therapist. At the end of a 'grueling' week I began to realize just how much more I needed to know.
After completing the Masterson program I continued on with an Equine Gross Anatomy and Dissection class with Dr. Deb Bennett, several short courses at New Bolton Equine Center at University of Pennsylvania, a 2-year gig with Dawn Willoughby of 4 Sweet Feet on Trimming the Natural Hoof, and a part-time Executive Director position for a non profit, running a historic equestrian facility in Fairmount Park, Philadelphia.
In January 2014 I left my part-time job and officially became a full-time equine bodyworker as an Associate to Bill Stanton. He's the guy that runs up and down the East Coast chasing the hunter-jumper A-circuit horses. And he's so busy he employee's three additional bodyworkers during the 3-month, Wellington, Florida circuit. The remainder of the year involves traveling to shows where clients are competing, typically between Lake Placid, NY and Tryon, NC. Occasionally, Canada and Europe are thrown in for good measure.
Since 2014, I've also completed an Equine Myofascial Release program, the NEAEP Symposium/Trimming Fundamentals & Dissection of Hoof and Forelimb, assisted MVDr. Ivana Ruddock in a whole horse dissection, and became a Certified Equi-Taping Practitioner.
But the last two years have been the most challenging and inspiring to date. I entered The Vluggen Institute for Equine Osteopathy in 2015, a 3-year program where we study all the systems in the equine body, and in 2014, the Equine Cranial Sacral Therapy Program at Upledger Institute International, the only modality that specifically addresses the equine head.