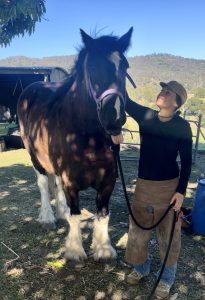 I grew up in Switzerland, riding everybody else's horses until I started earning enough money to buy my own at the age of 20. I was interested in endurance and in buckskins. So, I ended up with a buckskin who was not interested in endurance.
At least that's how I saw it then, now, of course, I know that a stocky 14 hands Tarpan with short, straight legs, a long back and heavy-set neck is not ideal for endurance. 30 years later we live in lovely Brisbane, Australia, with our 5 horses/ponies, mostly from our children's pony club days. Not a single buckskin among them, as I found out there is more to choosing a horse than the colour. In the meantime, I studied arts, worked as a teacher, became a TTEAM practitioner, Centered Riding coach, pony club coach and since 2011 I am a full-time barefoot trimmer with a diploma from the Australian College of Equine Podiotherapy.
Finally, in 2019 I was very lucky to get introduced to the unique and amazing Masterson Method® by Jim himself, for me this was the missing link to everything. Now I can combine both my passions, trimming and bodywork to help horses feel better from "head to toe" or the other way around: from a "decent digital cushion to a free atlas and poll".  Apart from the physical releases I am also extremely interested in the emotional aspect of this method; the instant connection we can build when the horse realizes that we are present, that we care, acknowledge their responses, restrictions and fears and that we can help improve what is bothering them. I am proud to be part of the Masterson family, glad to meet so many same minded people and excited to see what the future holds.