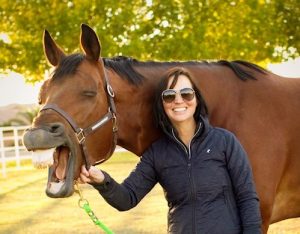 Lucie's love of horses started when she was 8 with her first pony, Betty.  Her passion continued in 1992 – 1995 at the Agricultural College in La Pocatiere, Quebec where she completed her degree in Equine Studies and became a Certified Instructor with the Canadian Equestrian Federation.  In 2004, her life path was revealed to her after the injury her show mare sustained stepping out of a trailer.
Looking for answers and ways to help horses recover from injuries and return to the show ring, Lucie began studying equine massage and body work methods.  After moving to Arizona in 2014, Lucie stumbled across The Masterson Method® while researching online.  She jumped right in and did the Home Study and Anatomy Class offered.  It was then that Lucie knew she had discovered the exact modality she had searched for all this time!
In December of 2018, Lucie lost her beloved stepdad to cancer.  It was an incredibly difficult time, and it made her realize that life is short and now was the time to pursue her passion.  On a Friday night in March of 2019, over pizza and wine, Lucie gave her 2-week notice at her job! She sat down with her supportive husband and signed up for the Weekend Seminar, and the Advance 5-Day Course with Becky Tenges in May.  She asked all her friends if they would let her practice on their horses– and she worked tirelessly at that for two months– to make sure she would be the best she could be when she began the in-person classes.
Lucie loves sharing her passion with others and teaching her clients so they can connect with their horses on a new level while helping them release tension.  The Bladder Meridian Challenge has inspired her to teach as many people as she possibly can!  Lucie is so thankful for this journey and the great people she has met because of The Masterson Method® thus far.  As she told her certification friends, "This is not the end, this is only the beginning!"
Most of Lucie's clients are based in the Gilbert, Chandler and Tempe area, but she also travels to surrounding areas and visits Scottsdale, Cave Creek and Tucson at least twice a month.