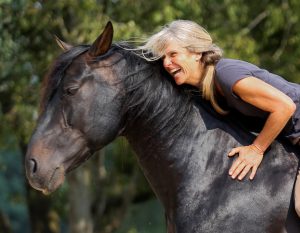 Like most people, Lucie found The Masterson Method® because one of her horses was not sound. When 2 veterinarians told her 'nothing could be done anymore' she decided to learn everything she could to keep her horse as fit and healthy as possible.
Lucie Klaassen is a certified instructor in Straightness Training, Centered Riding and Freestyle and a Squire in the Academic Art of Riding. She includes The Masterson Method® into her work as she believes in the combination of training and bodywork, it brings the same relaxation and power to the horse in another form. If the spine can not move freely during the training, the energy can not flow and the movement will be restricted. By finding the body parts and junctions where the horse holds accumulated stress we can help to release tension and the horse will find more freedom of movement in the training.
It is her passion to guide both horse and rider towards more balance, true connection, mutual trust and playful togetherness. Her specialty is horse behavior, communication, body awareness and physical and mental balance of both rider and horse. Teaching what you know, is the best way to learn and grow! Lucie is based in the Netherlands but she is traveling internationally giving Balanced Rider & Horse clinics and Body Awareness for Riders.