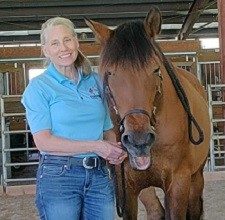 Lori grew up with a love for horses since her early childhood.  Riding horses was the neighborhood activity, and with the advantage of horses in her backyard, Lori grew up enjoying hours and hours of horse activities.  In time, college, career, marriage, and kids became the priority and Lori's time for horses had to wait.
When planning a transition out of the corporate environment as an IT professional, Lori recalled her passion for horses.  With time constraints no longer an issue, Lori began her involvement with horses again.  It was Lori's trainer that had introduced her to The Masterson Method®.  Intrigued, but skeptical, in 2011 Lori started her journey learning The Masterson Method® Integrated Equine Performance Bodywork.  The more she practiced the Masterson Method® techniques on different horses, the more she saw how effective this modality was for enabling horses to release tension and stiffness throughout their bodies.
Strongly resonating with Lori was the communication between horse and practitioner during bodywork, not simply a practitioner applying techniques to the horse.  Seeing the physical and emotional improvements to the horse and the benefits of the horse-human connection are what inspired her to earn her Masterson Method Certified Practitioner (MMCP) credential in 2014.  Lori continues to be a strong advocate for The Masterson Method Integrated Equine Performance Bodywork.
Knowing that the whole horse is connected, Lori understands bodywork can address only part of what is happening with the horse and root causes of tension should be sought after.  She believes that continual education of various equine-related subjects is important to improve her effectiveness as a MMCP bodyworker and help contribute to the horse's overall well-being.  Learning opportunities are endless: dissection courses provide tremendous knowledge on how the whole horse is connected; biomechanics courses help put the pieces together of movement; fact-based studies can provide different approaches to the status quo; basic knowledge of proper fitting tack; learn new skills for managing your horse from hooves to pasture management; work with a trainer to embark on a new equine sport, rise up the ranks of competition, or enjoy pleasure riding a little more.  Expanding equine knowledge along with effective bodywork contributes to a healthier life for the horse and a more enjoyable one.
Being an advocate for the horse, Lori encourages horse owners to broaden their knowledge and learn The Masterson Method® techniques for their own horses.  As a Weekend Seminar Instructor, Lori enjoys teaching these techniques to interested clients and students starting their own journey in The Masterson Method®.