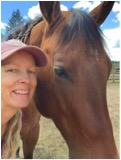 Lori has a long love and history with horses. While in high school, Lori (secretly) leased a horse, in trade for barn chores (stall mucking, bucking hay, AM/PM feeding, driving the tractor, etc.). She maintained the care of the horse and took lessons from the local barn owner/trainer for several years before her parents discovered where she was spending all of her time, before and after school. She then purchased her first horse and began showing Arabian's in Dressage, Costume, and Hunter-Under Saddle. For many years she worked with Connected Riding Instructors to improve her communication with her own horses both from the ground and in the saddle. More recently she has moved into the AQHA and Ranch Riding.
As a Reiki Master/Teacher, Lori was looking for additional ways to help horses work through tension patterns found within the body. Lori was introduced to the Masterson Method by her Connected Riding Instructor several years ago, while attending the Albany, Oregon, Horse Expo. Having a horse with special needs, she knew from that moment this was the missing piece to help her own horse-the results and the journey have been profound! Lori then realized she must continue this work beyond her own horses and provide Masterson Method™ Integrated Equine Performance Bodywork™ along with Reiki to any equine, working within any discipline to assist in their journey with their human partner.
Lori has a unique method of combining both Reiki energy work with Masterson Method Integrated Equine Performance Bodywork™. Through Reiki energy work and the Masterson Method, she is able to help the horse develop a healthy posture, while promoting energy rebalancing, recovery from injury, and injury prevention through relaxation and release of tension.
Lori is willing to travel to perform bodywork at your farm.