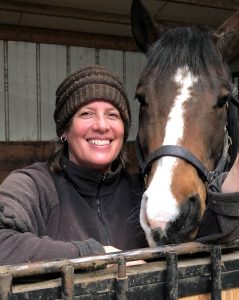 I have loved and been a student of the horse for most of my life.  My earliest picture on a horse was as a one-year-old with a bunny snow suit being held on by my grandfather.  I had the biggest grin on my face and it has never stopped with the horse.
I have loved and been involved with horses all of my life.  As I grew more involved with horses and people, I began seeking answers to my growing list of questions I had about the horse.  It was after that I became aware of a different kind of horsemanship when I met Harry Whitney, a clinician, about 20 years ago. This was a turning point in my life, as I became aware of being with the horse in a different way than I had ever been.  I also learned a lot about myself.
From this experience I became interested and pursued learning about therapeutic riding, and the benefits. 13 years ago I became certified with PATH (Professional Association of Therapeutic Horsemanship).  I realized I didn't have experience with individuals that had different needs and ways of learning so I began volunteering and working at various non-profits to augment my learning.
In the last few years I've become involved with unmounted work with the horse.  I've completed two seminars with Elaine Davis and her program "Unbridled Faith."  This is in direct line with Greg Kersten's program and series "OK Corral", Greg was also involved with the foundation of the EAGALA (Equine Assisted Growth and Learning Association) model.
Through the years I've worked with many horses. Some have been my own and some have belonged to clients. At times I've seen or felt something wasn't right. I've used different veterinary and chiropractic services which have helped. I've searched for answers and in the last few years, I found The Masterson Method®.  It's amazing and worthwhile work!  Working with the horse, watching them release and seeing them more comfortable has been very rewarding.  I am now certified as an Equine Specialist with The Masterson Method® and have recently become certified as a practitioner in Masterson Method Integrated Bodywork.
I am enjoying this journey and I look forward to where it will take me.