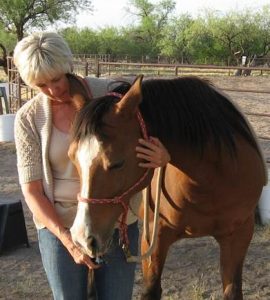 All my horses have been wonderful teachers and I am grateful for their patience and guidance. Most importantly they taught me to listen.
Twenty years ago, I began a journey in natural horsemanship rooted in a foundation of equine psychology and the importance of the relationship between the horse and human. I found it to be rewarding both with horses and personally, from this experience I knew I wanted to pursue equine bodywork.
I prefer a holistic approach with horses. While studying Reiki for Horses with Anna Twinney, I observed the horse's response to energy and realized how much they had to say. As I continued my quest, I was captivated watching Jim perform his techniques on a horse, and I understood how The Masterson Method® works with the horse and not on the horse. This complemented my horsemanship background beautifully and I was excited. A perfect fit!!! This bodywork is respectful of the horse and it honors the horse's ability to communicate what he needs and where he needs it, so that we may better help him release restrictions in his body. Listening became communication.
I believe that my experience in natural horsemanship and energy healing, balanced with the techniques of The Masterson Method® provides a beneficial experience for the horse and owner/trainer.
I offer hands-on evaluations in Yulee, Florida. I work on all breeds, specializing in Arabians. Your questions are always welcome so call or email me.