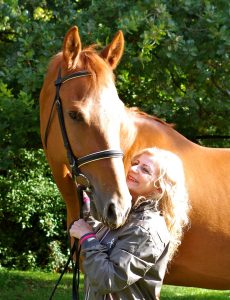 Leslie is an avid horsewoman of long standing within the equine industry. Leslie has a keen eye for biomechanics muscle asymmetry, lameness, stiffness, tension, behaviour issues. She became a Masterson Method Certified Practitioner in 2019 and Masterson Method Instructor in 2022.
Using the Masterson Method® Leslie has successfully promoted healing in horses ranging from elite performance horses, FEI Level Dressage and event horses, western, senior, lesson and companion horses, pleasure horses, and hunter/jumpers.  Leslie enjoys a professional, accomplished life long career in the equine industry, most notably in the world of dressage, with a resume that includes currently being a National Senior Dressage Judge , FEI International Dressage Steward, Para Dressage Judge, Western Dressage judge, FEI Level Coach, EC Gold Medalist and a successful former Grand Prix trainer and competitor. She is also an FEI Permitted Equine Therapist.
Over the years Leslie has been a popular clinician in Ontario and the United States. She has mentored many aspiring judges, coaches and trainers throughout her career. From years of extensive education, coaching, training, judging and competing Leslie has developed an expert eye in assessing and assisting horses and riders.  Leslie has a genuine interest in every horse's development and well-being, consequently Leslie feels it is essential she continue to further educate herself in restoring whole body balance and muscle symmetry as new techniques and modalities present themselves.
As a Masterson Method Instructor, Leslie is passionate about teaching others to help their horses through Masterson Method Weekend Seminars.