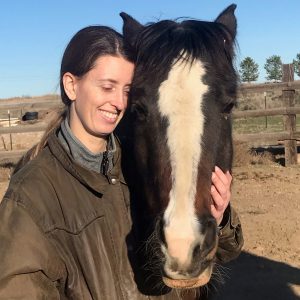 Leia was born horse crazy.  She grew up riding her aunt's family's horses and was given her first horse by them when she was 13.  Three years, and a lot of growth, later she bought a yearling filly, Loddy, and trained her from the ground up.  The joke goes that Leia and Loddy raised each other.  Leia bred Loddy and, in 2011, Roheryn (Roh) joined the herd.  Where Loddy felt like clay in Leia's hands the first time they worked together, Roh always knew who he was and what he was here for.  He embodies the phrase "old soul."
Leia graduated from WSU with a degree in Animal Sciences Production Management in 2013.  That fall she moved to Prescott, Arizona to study under Melissa Ambrose, a horse trainer and bodyworker.  Melissa introduced Leia to horse massage and, after observing Leia's aptitude, Melissa encouraged Leia to pursue massage over horse training.  When Leia moved back to Washington in 2014, Melissa gave her the Beyond Horse Massage book and DVD which set Leia on the path to certification.
Leia completed the Masterson Method® Certification program in September of 2019. She learned about the laws regarding equine massage in Washington State at about the same time.  She graduated from Langley Equine Studies in December 2022 and is now licensed by the State of Washington and Nationally Certified.
Roh has been Leia's greatest fan in encouraging her to continue massage training and hopes to be her 'mane' critic for many more years.  In fact, Roh has done as much therapy for Leia as she's done for him.  Leia didn't always believe in horse massage.  It wasn't until she saw the Masterson Method® techniques in action that she understood that massage could have a profound and lasting effect upon a horse's body and psyche.  Leia is and will continue to be open to modalities that work effectively.  The day you quit learning is the day you die.
Leia works in the Wenatchee, WA and Ephrata, WA areas.