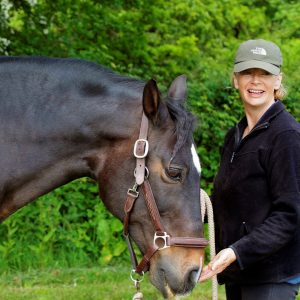 I have been in love with horses from the age of 3 when I had my very first pony ride on a beach.  Once I was working and self-supporting, I was then in a position to follow my dream of learning how to ride. After 10 years of corporate work in London, I went to Southampton University where my ultimate achievement was being awarded my PhD. Most of the skills learnt while completing my PhD were utilised as an integral member of the Equestrian club where I managed a number of teams in the BUCS leagues. I was responsible for increasing the number of teams competing and representing the University from 1 to 5 allowing a greater number of riders to experience the highs and sometimes lows of competition.  Upon finishing my PhD, I decided that academia as a lecturer was not for me and moved over into academic administration. During this time, I achieved my Level II Enlightened Equitation (EE) Teaching certificate as well as my BHS AI. Initially taught by Catherine Edwardes, inspired by Heather Moffett and particularly Louise Mockford, I was teaching along classical lines, looking for harmony between horse and rider with no room for harsh riding.  Teaching part-time was not enough and after undergoing serious back surgery coupled with the loss of close friends and family, I realised that life is just too short to not be doing what I felt was my real calling, working with horses full-time.
My meeting with Vicky Devlin through EE was fortuitous and introduced me to the wonder that is the Masterson Method. I have been drawn to this method precisely because you have to work with the horse, it is not something that is done to the horse.  My Reiki training informs my Masterson work and it helps to deepen the relaxation of the horse and owner that makes the Masterson techniques even more effective. I have been mentored for the last two years by Emma Bailey, an exceptional Energy Therapist and Trainer, developing my energy medicine skills.  This also feeds directly into my Masterson work as I am learning how to read the body from an energetic viewpoint as well as the purely physical.  I am currently working towards my Reiki Masters with Emma. My ultimate aim is to bring as many horses as possible into a balanced state, physically, emotionally and energetically. Taking a holistic approach to my Masterson work and teaching, I feel that I can achieve an all-round benefit and improvement to the horse's state of being with a view to improving their comfort, well-being and performance.
I am based in Bishopstoke, a few miles outside Southampton in Hampshire.  I am happy to travel in Hampshire and the surrounding area. Please get in touch either by telephone or email to discuss how I can help.