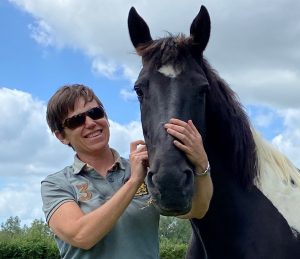 Leanne grew up in South Africa and started riding at an early age.  She spent as much time as she could on the farm just to hang out with horses and on leaving school completed a horse mastership course, qualifying as a riding instructor and helping out with riding for the disabled.  She spent some time with a dressage judge learning more about the care and training that goes into competition horses.
When she first heard about the Masterson Method® it was exactly what Leanne was looking for – a technique which works with the horse!  An opportunity to really listen to what a horse is telling her, ask them how their bodies are feeling and help them.
Leanne is based in Cambridgeshire but is happy to travel to neighbouring counties.