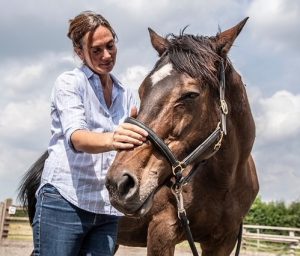 Laura has 20 years of experience as an Ayurvedic practitioner, utilizing therapeutic touch and herbs in her practice with both people and animals. Laura specializes in Amnanda therapies, supporting health and transformation from the detrimental effects of adverse experiences and stress.
Her initial reason for learning equine bodywork was to help her own horse, a Cleveland Bay/TB X who developed challenging behavioral issues she was convinced were pain-related. She was drawn to the Masterson Method® because it centered on the horse's participation in the treatment process. This participation and interaction along with the release of physical tension brought about profound changes in her horse and their relationship.
Laura enjoys working with all breeds and disciplines and loves the many ways MM can help horses; increasing co-ordination and proprioception, improving the movement and athleticism of performance horses and restoring the cheekiness of veteran horses! Developing the horse's trust is always Laura's priority as she considers the many different elements that support a healthy, happy horse such as diet and environment. Laura is also interested in groundwork training and somatic education to develop suppleness and the horses' enjoyment in expression of their unique qualities and movement.
Laura lives in Hay on Wye and covers Powys, Herefordshire, Monmouthshire, Shropshire, Gloucestershire.