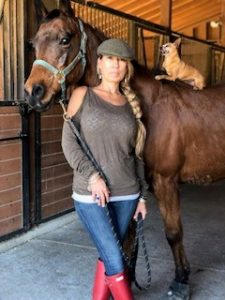 I spent my early childhood living on a family ranch in Norco, CA. My cousin and I shared a black pony named Beauty and that is when I fell in love with horses. After my family moved to the city, I didn't have an opportunity to be around horses except for an occasional trail ride. In my early twenties, I moved to Austin where I met a grey Arabian mare and we quickly became friends. I had to gain her trust before she allowed me to ride her. We appreciated each other's company. In my mid-twenties, my daughter and I moved to Reno. We reconnected with an avid horse woman who brought Montana and me back to being with horses. We did many rides together in Washoe Valley.
Now in my forties, I live in Sonoma, CA and have been a massage therapist for 20 years. I had a desire to have horses back in my life again. I was fortunate enough to see an ad for a family-owned horse ranch looking for help. The next day I had a job there. I met one particular horse named Jamal who I became particularly fond of. He had been diagnosed with cushings and also suffered from laminitis. Instinctively, I began to do bodywork on him and he laid down and surrendered. Linda, my boss, came in to see what I was doing and she mentioned that she had just attended a Masterson Method weekend seminar and suggested that I look into that. I took a weekend course and I was hooked! I wanted to become a Certified Practitioner. I worked at the barns in the mornings, worked as a massage therapist on humans and I studied the Masterson Method.
All was well until October 2017. I attended the Advanced 5-Day course in England and on the second day, my house in California burned down from the wildfires. My family and animals were safe but everything else was gone. I stayed for the rest of the 5-Day course and then went home to piece my life back together. There was a lot of sadness during this time and new sets of challenges all while keeping up with my curriculum and work but, the horses pulled me through. I was meant to do this work and they were supporting and nurturing me through this process one case study at a time. I felt blessed.
Fast forward to today. I completed the final certification course in England in October 2019 and am now a Masterson Method Certified Practitioner and could not be happier! I still see Jamal in the mornings and I thank him for showing me this path through his pain. He has a mantra that he likes to share with me: "Just because you're hurting doesn't mean you can't be strong." This is now my mantra. My dedication for horses and their well-being is now my life's work and I am truly honored.
I travel back and forth between Sonoma and Lake Tahoe so I am available to work in both areas.