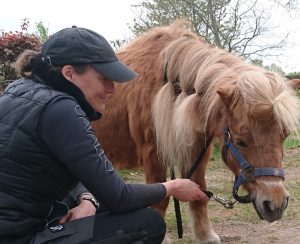 Even as a child, I was fascinated by horses. Their warm smell triggers a comforting feeling in me to this day.
After graduating, I finally had the opportunity to turn my enthusiasm for horses into a regular hobby. I started with riding lessons, which became more intensive, riding partnerships came along and after a few years my own horse. And this horse of my heart took me on a journey that was as unexpected as it was wonderful.
During an injury break, I was looking for a gentle way to help the horse with tension and later to dissolve compensation patterns. I discovered the Masterson Method®, which I would not want to miss today. After reading the book, watching videos and self-study, I enrolled in the weekend seminar in May 2021 and completed the Certification Course as a Masterson Method Certified Practitioner in April 2023. The training was very exciting, educational and intense. During this time, my view on many topics such as training, hoof care or feeding has changed significantly once again – especially due to the search for the Primary Issue.
The Masterson Method® is very effective in increasing the agility, well-being and performance of horses. What convinced me even more was how horses change when we listen to them with the Masterson Method®. We learn to read the horses carefully, pay attention to the smallest changes, body language, facial expressions, breathing – and connect with the horses in a very special way. These powerful, noble animals are grateful for this. In this combination of professional bodywork and the connection to the horse lies for me the key to the lasting effect of the Masterson Method®.