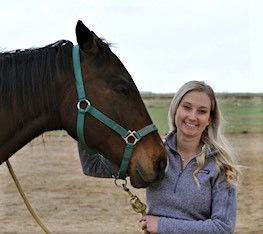 Kelsey grew up in Nevada and remembers long dusty trail rides through the desert with her grandfather as some of her earliest memories. At ten years old she watched a show jumping competition and decided that looked fun. From then on Kelsey pursued personal riding goals in the world of Eventing. Kelsey is a licensed professional counselor in Wyoming and has worked in the therapeutic/adaptive riding industry since she was 14 years old when she started volunteering for a local program. Kelsey found passion in helping others through her own connection with horses and continued this after going to college by working with youth in foster care doing equine-assisted work.  Kelsey decided to go back to school to get her Master's degree in equine-assisted mental health counseling in 2017 and this is when she was first introduced to the Masterson Method® by a friend in her program who showed her the bladder meridian.
After she finished her Master's degree, Kelsey decided to pursue the route to certification in the Masterson Method®. During her Masterson journey, Kelsey lost her heart horse and eventing partner, Ransom, to a sudden colic. His legacy inspires her to continue to learn and grow.
Kelsey is passionate about helping horses and humans connect and heal, and the Masterson Method® is a powerful way to achieve this. While Kelsey has a special place in her heart for working with therapy horses, she also loves working with athletes and their horses from all disciplines to improve movement and performance. Kelsey is also a Reiki master and offers energy/chakra work in sessions when appropriate.
Kelsey currently resides in Casper, Wyoming where she works as a mental health therapist and equine bodyworker.