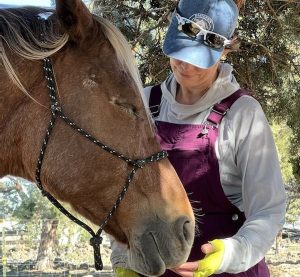 "Love is sustained, compassionate attention."  John Muir Laws, Naturalist & Visual Artist
A horse person since the get-go, Katrina took a few years off from the horse world to be an actor, opera singer, white-water river guide, writer, and editor before rediscovering her passion for equines in 2021. 
She stumbled across the Masterson Method® on MMCP Crissi McDonald's website, and realized immediately the Masterson Techniques and process offered something potent and important in terms of how humans relate to equids—something she had yearned for in terms of grounded presence, kindness, and two-way communication. 
Helping horses enter into states of greater well-being and comfort in their bodies, and helping people listen to and connect with their horses is a passion for Katrina. The sustained, compassionate attention the Masterson Method offers is a way to improve the lives of the beings who give us so much. 
Katrina offers Masterson Method interactive demos, and works on equines in the Central Oregon region. She is a volunteer with Healing Reins, an equine-assisted therapy organization in Bend, Oregon, and is deep in the delightful process of learning to become a better rider by means of studying dressage.