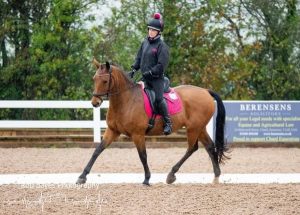 I live in Devon with my 4 children, 3 dogs and 4 horses.  I have been around horses all my life, starting at a very early age having ponies on my grandads farm. I then went on to be part of a riding club.
I now compete in dressage and team quest with a group of friends.  I also take part in local show jumping and one day events.
I became interested in The Masterson Method® when I was having problems with my mare Daisy.  Once she had had a few sessions, I started to notice a real difference with the way she went and felt under the saddle.
I then went to an introductory day and got completely hooked and then my Masterson journey started. Having recently just bought an ex-race horse, I now use The Masterson Method® on her on a regular basis as she finds this very beneficial  through her retraining program.
Horses are my life, my passion and my everything.