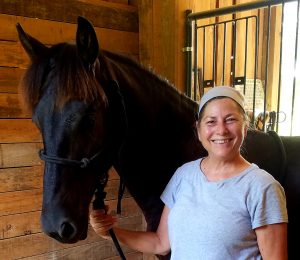 I have loved horses since my very first breath. Realizing that my passion was not going away, my parents finally bought my first horse for me, at age 13, a 6-month old colt that I raised and trained myself using gentle techniques. I have always believed that building trust and treating a horse with respect makes him a partner, not just an object with which to achieve goals. After taking time away from horses to raise my daughter, I acquired a new horse and began competing in endurance in 1989. In 1994, when my endurance horse tied up, I felt the need to learn massage to help relax his muscles and became a trained Equine Sports Massage Therapist. While working with endurance horses at rides, I saw the need for a method of bodywork that could release the deeper muscles, not just the superficial ones, which is what led me to The Masterson Method. This is the only method that has the ability to facilitate release of tension using the nervous system. I have been blessed with the ability to connect with animals on a deeper level of communication and it shows in my sessions. I work with horses of all ages in all disciplines. Whether your horse is a weekend trail horse or top-level competitor, every horse can benefit from bodywork!
I work with the therapy horses at Tri-State Therapeutic Riding Center, in Cleveland TN, to help their bodies deal with the demands of keeping their riders balanced and safe.
I serve the SE Tennessee, N Georgia area. I also travel for shows and endurance rides to help your equine partner feel and perform their best!