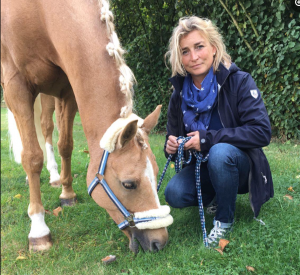 Like probably most of the girls my dream was having a horse on my own. This came true only at the age of 29. However, with the help of my wonderful trainers  Egon Neumann (FN trainer and judge), Katja von Rönne (FN trainer and Grand Prix rider) and David de Wispelaere (American Grand Prix rider) all having in common focusing on the horses' welfare and achieving the utmost harmony and balance with the horse, I achieved M** placements (Intermediate) in dressage. Additionally I successfully performed the German trainer A certification.
Supporting and training our two daughters, my husband Walter and I are now closely connected to the eventing scene.
I got in contact with Masterson Method® through my husband, Walter, with whom I exchanged first experiences in his bodywork with horses.  In November 2015 I took the chance to participate in a clinic with Jim and was so impressed by his empathetic way to approach horses and their potential problems. The next advance course with him in May 2016 in the UK brought real change into my life, as I found out that by tuning into the horse with all these refined techniques  you can really help the horses by having such a deep effect on muscles and soul. This intensive contact with the horse overwhelmed me and I dived into the field work and continued this wonderful journey also becoming more and more confident in what I was doing. In October 2018 I was certified in the UK and since then I am still enthusiastic what you can achieve for the horse by applying Masterson Method®.