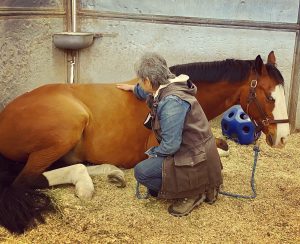 Karen's best childhood memories were on the back of a horse!  Summers racing across the hills with friends, her Arab's long mane whipping her face.  She rode and competed in lower-level dressage and cross country in the SF Bay Area in the 70's.  During college she left horses and focused on my Architecture education & practice.  As a parent, her daughter's interest in horses rekindled her own passion for the most exquisite creature on Earth.
That's how Karen met Ziba, her spirited Oldenburg mare, who emphatically put her on this new path she now calls home.
Over a decade ago 'Z' survived a near-fatal chest injury. Karen researched many modalities for her healing and rehab and came across videos of Jim Masterson's work.  She was fascinated to see horses respond to his gentle work and immediately bought his book and took it to the barn.  Just a few pages past the introduction and after learning about levels of touch, Karen tried the Bladder Meridian technique on Ziba.  Z stood free in her paddock, relaxing; She positioned her fingers at air gap pressure on her atlas and just breathed.  Within 30 seconds Z's head started dropping, her breathing deepened; After a minute her nose almost rested on the dirt, then she raised her head and gave a big yawn with her eyelids double flipping!!  She dropped her head again and went into a deep trance, and that is when her knees started to buckle!  Karen had to rouse her from her trance to make sure she would stay standing.  That dramatic response was just the beginning.
If an untrained layperson could elicit an effect within a minute after reading past a book introduction, imagine what a trained Masterson Method® Practitioner could do!  She was hooked and her mare thanked her for years to come.
Karen's curiosity and talent for researching and exploring innovative concepts and designs for the equestrian community has led her to focus on finding the best solutions for the well-being of horses.
She founded a holistic horse store that offered emerging state-of-the-art equine products and holistic supplements.  Many of these products soon became popular in the equine industry.
As Z presented a stream of health challenges, Karen was led to explore ways to support her wellbeing.  Through years of dedication and study, she became a skilled practitioner in alternative healing arts as a Reiki Master, a Shamanic Healing Practitioner, and a mesa carrier in the Andean Q'ero tradition which involves working with the living energies and the spirits of nature.  These practices, offered alongside the Masterson Method® system, form the foundation of her Mind+Body+Spirit approach.
Her happy place is witnessing the deep reactions and positive transformations of horses during a Masterson Method® bodywork session.
Karen serves clients in the San Francisco Peninsula, and also Central Coast of California.  Horse clients range from Icelandic trail horses to Grand Prix Dressage and Jumping Competitors.
Visit her Facebook page (current) and website (background).