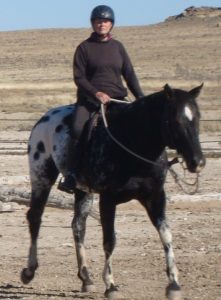 Karen Evans is a lifelong horsewoman who competed in her first horse show at age 6.  She became interested in The Masterson Method® at an equine seminar.  Her initial interest, encouraged by the improvements in her own and client horses, led Karen to become a Masterson Method® Certified Practitioner.  Karen completed the Certification process in 2019.  She founded "On The Spot Equine Bodywork" which focuses on The Masterson Method® Integrated Equine Bodywork model.  The business name "On The Spot" is a tribute to the horse who inspired her Masterson Method® journey, Karen's Appaloosa stallion Bandalier.  It was her desire to heal Bandalier's chronic pain that led Karen to The Masterson Method®.  Read Bandalier's story at www.onthespotequinebodywork.com.
A North Carolina native, Karen worked as a sport horse riding instructor for Full Circle Farm and Pinnacle Equestrian Center.  She moved to New Mexico in 1996.  Karen has been active in the equine industry in hunter/jumper, eventing, dressage, competitive distance, natural horsemanship and equine assisted therapies.  She graduated from the Equest Center for Therapeutic Horsemanship in 1998 as a PATH Certified Instructor, Advanced Level, Physical & Cognitive Disabilities.  Karen co-founded Spirit Horse Equine Therapies serving the Navajo Nation and was the Program Director and Senior Instructor for Cadence Therapeutic Riding (Durango CO) 1998-2008.  Currently Karen is the Riding Instructor for Las Campanas Compadres in Santa Fe, NM.  She volunteers for Wilderwood Equine Therapy & Rehabilitation by offering Masterson Method sessions to Wilderwood therapy horses.  She enjoys continuing her equine education.  Karen is a supporter of the Foundation Appaloosa Horse, an active trail rider and enjoys exploring the New Mexico backcountry.
Karen provides Masterson Method® services to the greater Albuquerque/Santa Fe area and has expanded her services throughout New Mexico with a multi-horse scheduling option.  She also offers riding instruction and training that blends The Masterson Method® philosophies with horsemanship.  She welcomes horses and riders of all disciplines.  Karen believes wholeheartedly in the value of Masterson Method® Equine Bodywork and its ability to improve the quality of health and soundness for any equine regardless of breed, discipline or age.   Contact Karen to schedule a Masterson Method® session for your horse, or to schedule a Masterson demonstration for your barn or riding club.