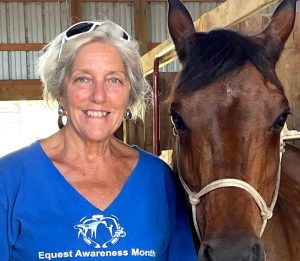 Horses have been a passion of Karen's since she first sat on one at age 3. Caring for and riding horses were a natural next step and because she believes in education, she took lessons in dressage and jumping to become a better rider.  When her children were young, she assisted the 4-H leaders and also co-coached her daughter's equestrian team.
Blending her love of horses with her ability to teach kids with disabilities she then became PATH certified and worked at a variety of centers. When the opportunity arose to have the therapeutic riding center at her home, she was then able to really be hands on taking care of the whole horse, mentally and physically, wanting to pay the equines back for the work they did.
Karen strongly believes knowledge is good and more knowledge is better so she consistently attended clinics and presentations, learning more and more about understanding and caring for the horse. Believing that massage could make a real difference in how the horses felt, she earned certifications in Equine Sports Massage Therapy, Equine Body Balancing and also Saddle Fit. Always seeking more knowledge, she then learned of The Masterson Method® and earned her certification as an MMES and then MMCP.
Karen believes the Masterson Method® is the perfect bodywork to use with those horses that "help humans", those horses who are part of an Equine assisted therapy team. Karen visualizes the Masterson Method® as a part of every center's Equine Wellness Program and plans to work towards that goal.