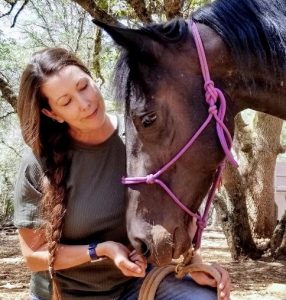 Prior to finding Masterson Method® Integrated Equine Performance Bodywork, I felt my skills as a NBCAAM certified equine acupressurist and bodyworker were missing key pieces to truly validate the service I could offer. I began hearing of this individual who had developed a genuine method for reducing tension and soreness in the horse while benefiting performance and the relationship. When I first opened the pages of Jim's book I knew that I had landed where I needed to be to fulfill my goals of providing highly effective bodywork for my clients. The journey to become a Masterson Method® Certified Practitioner has been enriching as I have developed strong connections with my mentors, coaches, and fellow students. The Masterson Method® techniques I have acquired are everything I was looking for to integrate with my acupressure education. My learning is ongoing as every new horse I meet teaches me more about lightness of touch, breath, and staying under the brace; tools that benefit all aspects of horsemanship.
I was first introduced to horses as a child living amidst the sheep farms of Southern New Zealand with my first love, Laddie, a retired grade herding horse and the perfect starter. Ever since that initial spark I have been a lifelong equine enthusiast, from a backyard pony, girl scout summer equestrian camps, a first summer job at a pack outfit in the Southern Sierras, to my own hobby horses. My background includes long distance trail riding, horse camping, ride & tie, and volunteering at endurance events including the Tevis that runs through our backyard. I currently live in the Gold Country of California with my partner, our two girls & our equine, canine, feline, & fowl family.
During my career as a San Francisco stylist, it was through our dogs and horses that I found balance in life. At the end of a workday I would escape the hustle of the City to clear my mind on the back of a horse with a dog at our side heading up the slopes of Mount Diablo. It was also through years of being a dedicated student of martial arts and yoga, along with a deep interest in Eastern medicine that helped maintain my equilibrium. When I stepped away from my former profession in 2012, it was a natural transition to combine my passions and seek the skills and knowledge to become an equine bodywork practitioner. As with many things, the more I learn the more I realize I need to learn which led me to discovering the Masterson Method® and pursuing becoming a Masterson Method® Certified Practitioner.
Whether competitive, recreational, retired or rehabilitating, bodywork can help your horse reach their optimum ability. My services are intended to help horses of all disciplines, breeds, and ages interact in the process of healing themselves, along with proper holistic veterinary care. I never tire of seeing the responses of both horse and owner when the horse begins to actively participate in their bodywork session. Located on the American River Divide my practice serves the Sacramento and Tahoe foothill region of Northern California. In order to allow your horse to be the most comfortable I will come to your barn.
Pilot Hill, California , United States