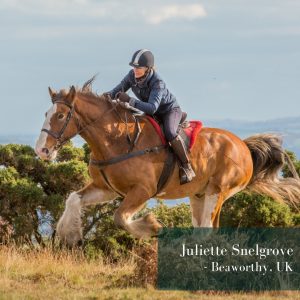 Juliette lives in Devon with her husband, 2 horses and a terrier. Her passion for all things equine started when she was very young and remained a constant theme as she grew up. Juliette has owned horses most of her life and has always had an interest in equine bodywork, biomechanics and more recently equitation science. Having experienced first hand various bodywork treatments available and gaining more of an interest of being able to help her own horses Juliette saw some YouTube clips of Jim working on horses and she knew this was finally the "missing" piece of the jigsaw and enrolled on a weekend seminar initially with a plan to help her own horses. After an amazing weekend that was the start of her journey to gain a MMCP qualification to enable her to share this amazing bodywork with a wider audience and help horses.
Juliette's other passion is Riding for the Disabled, a National UK charity dedicated to providing riding and therapy for disabled children and adults. Juliette is Chairman of Duchy RDA Group based at Duchy College in Cornwall and is a qualified RDAGI and UKCC Level 1 Coach and teaches each week at Duchy College where the group are based.
Juliette also follows trainers whose principals are based on classical riding and regularly attends clinics and seminars. Her approach to bodywork very much looks at the bigger picture as many factors influence the equine body and mind and each horse must be treated as an individual. She will work closely with riders, trainers and vets to ensure a happy, healthy horse that's fit for purpose. Juliette is happy to travel throughout Devon and the South West.