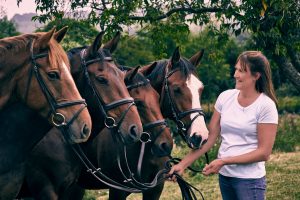 I am passionate about the wellbeing of all equines, constantly developing a better understanding of them by continually learning, having owned and ridden horses for over 40 years.
If I had the knowledge I do now when I met certain horses in my life, I could have done so much more for them, as I am a firm believer that horses basically want to co-operate but sometimes, due to pain or a lack of understanding, they just can't.
I have four (now adult) children, who all rode from a young age, hence horses and ponies have been part of our lives as the children journeyed through Pony Club, mainly eventing, and on into the wider world. I also farm with my husband, and have a deep sense of empathy with my animals.
There are many challenging disciplines and environments we expect our horses to cope with.  Like us they really need some kind of regular bodywork to help them do this comfortably and to the best of their physical ability. This helps them live their life well, with farriery, dentistry, saddle checks and good management as well, obviously!
I went on a two-day Masterson course when my main event horse was diagnosed with multi-limb complex lameness. I was determined to keep him as comfortable as possible, for as long as possible, keep his body supple and moving well and ridden regularly so his quality of life is fun 😊.  I quickly saw the benefits to him in removing tension patterns and decided to begin my own Masterson Method® journey to become a Certified Practitioner so that I can help mine and other equines on their way too.
The study of equine anatomy and biomechanics is my ongoing commitment, as it is my belief that understanding how the horse functions improves the quality of each bodywork session.
As a MMCP and Human and Equine EMMETT Therapist I can support both the rider and the horse together.
Registered with the IAAT in the UK.