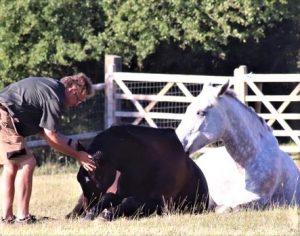 My love affair with horses started when I was around 6, beginning with riding lessons, but much to my parents dismay the horsey bug had bitten.  I soon started doing stable chores to help pay for the lessons and spending all my free time with the horses. My first horse was the most genuine Appaloosa who taught me so much. I came back to horses about 10 years ago and have quickly built a family herd of 7, with 3 Donkeys, 3 dogs and a bunch of other critters.
Without thinking about it specifically, I have instinctively gravitated towards working with horses–  finding comfort and pleasure in the partnerships I have created with them. I recently made the leap of faith and took the decision to dedicate all of my time and focus to working with horses and stepping away from the corporate life I had been leading.
I discovered Jim Masterson while on the 'Journey' with Warwick Schiller, who mentioned Jim a couple of times, so I decided to investigate. I was a little sceptical to start with, but the more I found out the more I wanted to know.   As with everything in life, the learning continues every day.
Masterson Method has transformed my relationship with horses and theirs with me. The whole horse approach and working under the horse's natural instinct to brace transforms the horse's ability to release deep tension and restriction. I am currently planning on some additional complimentary training (Facia Release, Tensegrity Balancing and Horse / Rider Biomechanics) to help me help horses as much as I can. My immediate focus however, is increasing horse owners' awareness of the Masterson Method® and how it can transform their horse's performance and the horse / rider relationship.
My 'Family' and I live in north Buckinghamshire, UK and am happy to help horses across the following areas: – North Bucks – West Beds – South Northants – East Oxfordshire.