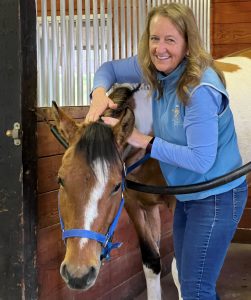 Like many of you, my love of horses started early in my life.  Our family would drive from Chicago to the beautiful Western US for a summer vacation each year.  During the trip, we would take a trail ride through the mountains; it was the best day of the year for me.  My parents were not horse people, so I would not return to riding until I had my own children many years later. Now, riding for more than 25 years, I have trained in both Western and English disciplines, and spend most of my time trail riding and caring for our two 20+-year-old quarter horses that we have had since they were just eight years old.
Learning and being certified in the Masterson Method® has taken me to a new understanding of how to communicate and improve the performance of horses.  Being prey animals, they hide their pain from lurking predators.  They are also highly intelligent with a unique and complex anatomy. The Masterson Method® takes this all into consideration through a series of learned techniques designed to release tension in their body.  The communication signals of the horse help me to focus on the right areas to peel away the layers of tension that will allow their bodies to move more freely.
Performing bodywork on more than 100 horses, I have helped owners to understand and work to resolve the unique points of tension on their horses.  If you choose to engage in a session with me, we will:
Work together to understand your horse, its performance and what you would like to improve
Identify the location and severity of the tension currently held by your horse
Complete a 90+ minute session helping your horse to release the tension that is hindering its movement
Teach you to perform one or two techniques that you can do to continue working on key areas
Together, we can put a plan together; the horse will let us know how we are doing.