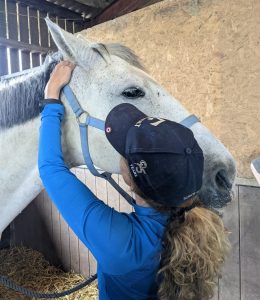 Jenny started her horse journey working at local stables in exchange for riding lessons. Her family bred and showed Jacob sheep and at local agricultural shows Jenny would be drawn to the Arabian horse showing rings. She now has her own Arab and is looking to do low level endurance with him.   As a teenager Jenny competed in affiliated showjumping with Dutch warmblood Gambit.
In line with family tradition Jenny headed to London becoming a Chartered Surveyor specializing in Urban Regeneration, including a stint at Kingfisher retail group and a postgraduate diploma in retail management from Oxford University. Ten years on Jenny was juggling life with two young children so set up a canine exercise and fitness business Joggy Doggy Ltd. Through Joggy Doggy and the sport of Canicross Jenny got to compete across the UK and represent team GB in France at the European Championships.
It was Jenny's daughter Chloe's interest in horses that gave rise to the opportunity to welcome Queenie and Star to the family.  Queenie was a kind obliging Connemara mare but struggled with a tight back. Whilst researching equine massage Jenny stumbled upon the Masterson Method®. In no time Jenny headed to Scotland for the weekend course swiftly followed by the five day.  In all it took nearly 3 years for Jenny to move from her logic fact-based background into her new profession as a fully trained Masterson Method Certified Practitioner now using feel, intuition and visualization. The Masterson Method® facilitates total focus on the horse's responses and allows a level of connection and communication that is quite unique.
It is incredibly rewarding to see a horse releasing tension and finding a place of comfort within newly enhanced movement patterns. Jenny considers it an amazing privilege to share this gift with the equine community and their compassionate owners.