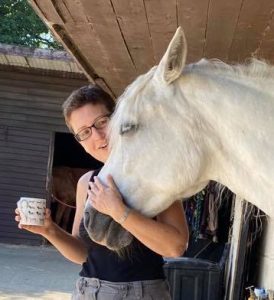 Jenny was pony mad from an early age and helped at her local riding school as soon as she was old enough. As soon as she could, she took her BHS qualifications and qualified as a BHSAI in 1990, however life then got in the way for some years.
Eventually she found her way back to horses, borrowing them where she could to continue riding, teaching and learning as well as exploring new directions like liberty and clicker training. It was whilst working with a very anxious Connemara and looking for ways to connect that she stumbled across the Masterson Method® and bought the book Beyond Horse Massage by Jim Masterson.
Despite not really having a clue, over the next 6 months she practiced with this Connemara and witnessed a transformation in his behaviour and her relationship with him (and now he loves his cuddles – see the photo!)
She bit the bullet and attended the Weekend Seminar and was hooked/obsessed from the start. Eighteen months later, Jenny qualified as a Masterson Method Certified Practitioner and still loves every session with every horse.
Jenny lives in Herefordshire and covers the 3 counties of Herefordshire, Gloucestershire and Worcestershire.