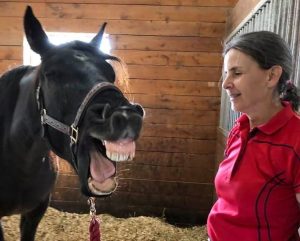 Jenn Vereshack has been a horse lover since she began riding at the age of 8 at Sunnybrook Stables in Toronto, Canada. Currently, she is a provider of integrated equine services including Masterson Method bodywork, Pulsed Electromagnetic Fields (PEMF) therapy, and saddle fit services.
Jenn has a diverse educational background and work history which enriches her approach to supporting animals and the people who love them. She attended the Ontario College of Art in Toronto (now OCAD) before deciding to pursue a BA in Psychology at York University where she won an award for a short film she wrote and another for an essay that was later published by the school.
While at YU, Jenn worked at the Community Association for Riders with Disabilities in Toronto, first as a riding instructor and then as the Equestrian Assistant to the Executive Director. She graduated from university with Distinction and went on to receive the Dean's Medal from George Brown College for academics and for the application of course principles in the Assaulted Women's and Children's Counsellor/Advocate Program. After graduating, she worked as a counsellor for abused women and children in shelters for many years.
While pursuing her education and career goals, Jenn continued to develop her riding skills both in private coaching and clinic settings. Through the course of certifying as an Equine Ergonomist through Saddlefit 4 Life, as a PEMF practitioner, and more recently, as a Masterson Method® practitioner she has become increasingly focused on equine health and welfare.
Dedicated to life-long learning, Jenn is currently working towards her International Diploma at the London College of Animal Osteopathy. She chose the Equine/Canine stream of osteopathy because of its congruence with the Masterson Method®. It is important to Jenn that her ongoing education continues to build upon the animal-centered foundations that began with Masterson and other excellent organizations. In this way she can provide increasingly enriched services while continuing to enhance her hands-on skills.
She lives in Innisfil, Ontario, Canada.