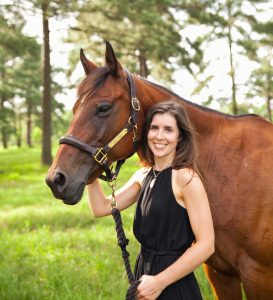 I have loved animals my entire life. I started riding horses in my mid-twenties and after one ride I was hooked. A couple of years later I found my heart horse in a QH mare named Star. Star led me to Masterson Method in a magical way that I didn't see coming.
"Let yourself be silently drawn by the strange pull of what you really love.  It will not lead you astray." – Rumi
I always felt that Star was looking to connect with me in more ways than just riding. In a quest to do exactly that I stumbled upon acupressure for horses. I was fascinated with Chinese Medicine so I enrolled at Tallgrass Animal Acupressure Institute and was certified as an Equine Acupressure Practitioner.
I then began reading about the benefits of massage and how that modality could be combined with my acupressure training. I went on to study with Northwest School of Animal Massage and was certified as an Equine Massage Practitioner in both Maintenance and Performance Massage.
I was looking to incorporate more softness and connection into my riding with Star and was drawn to Mark Rashid's books on horsemanship. I rode Star in several of Mark's clinics and in one clinic I booked a bodywork session for Star with Crissi McDonald. She was certified in Masterson Method and I was so intrigued by the way she was working with my horse. It wasn't a typical massage and I felt the pull to learn more.
As I began studying Masterson Method, I felt the pieces of my horse puzzle fall into place. It fit in so perfectly with the bodywork training I already had and the softness I had been practicing with my riding. I have loved every minute of my journey to becoming a Masterson Method Certified Practitioner and am truly grateful for this modality.
There is nothing better than the peace I feel in my heart when I'm working with a horse.
Instagram @jenileeroesch
Tomball, Texas , United States