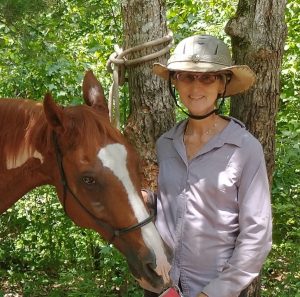 Horses have been a focus of Jean's life since age 7-8.  Born in Wisconsin, 3 years in the US Army in Kentucky, and arriving in Florida in 1983 her horses have moved with her.
Together they enjoyed trails, camping, obstacles, and Ride n Tie Races.    They were students of Parelli Natural Horsemanship and Mark Russell's Natural Dressage.
Jean also studied:
"The Science of Biomechanical Soundness" at Healthy Stride clinics.
"Equine Light Therapy" at Photonic Health Institute seminars.
"Equine Chiropractic" at Dr. Bill Hampton, D.C., seminars.
"Hoof Rehab Clinic" with Pete Ramey
Her search for a mode of equine contribution led her to a Masterson Method® weekend seminar in the fall of 2012.  At that clinic she discovered equine bodywork that uses the horse's response to our touch to release tension and restore normal range of motion in the key junctions of the body that most affect performance.
Jean combined her sense of feel learned through natural horsemanship and natural dressage with the Masterson Method® and began an amazing journey of relaxing, releasing, and rebalancing to enhance your horse's performance.
Based in northern Florida she travels with her horse throughout the US during the summer months.  She would be honored to work with you and your horse.