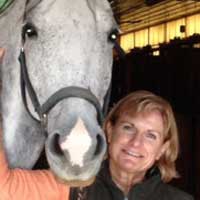 I have loved horses since before I was born. Raised in Primrose, Iowa, I spent my youth riding horses through farm fields, down dusty gravel roads, and wandering for hours through Shimek State Forest in Southeast Iowa.
College and city life in Des Moines, Iowa, kept me away from horses until the day I discovered a hunter/jumper barn near my home. I took a lesson and was promptly hooked. Several years later, my Dad bought an exceptional little black Quarter Horse with whom I fell in love. I took over the care of both of them when my father was laid up from double knee surgery. Knowing how much I loved the horse and grateful for my help, Dad gave me Shadow before returning home. I continue to be forever grateful for that; this horse changed my life.
After 10 years and many adventures together, Shadow suffered a career-ending injury out in the pasture. During the following year, I sought the help of vets, chiropractors, and equine bodyworkers to keep him happy and comfortable.
It was during this time Shadow taught me that horses experiencing pain and discomfort will seek help from those they trust. And, if we listen very quietly, they will often show us where to look. I paid close attention and learned much from Shadow and all the other horses in my life during that time.
After both my father and Shadow passed on, I decided to pursue formal training in equine bodywork. I knew first-hand the difference it can make. I traveled to California to train as an equine bodyworker through Equinology. After an intense externship, I received high marks and was certified as an Equinology Equine Body Worker.
About that time, a good friend of mine happened to see Jim Masterson working on horses at her barn. She called to tell me about it and mentioned that it reminded her of the way she'd seen me working with horses; I should check into it. So I looked through the website, immediately contacted Jim, and was soon fortunate enough to be able to tag along one day to watch Jim working on horses.
That was it. That's what I was looking for. It was the final piece of a puzzle I'd been trying to put together for years. Getting certified in the Masterson Method has been a truly rewarding and eventful journey for me.
As a Masterson Method™ Certified Practitioner and Coach, I work on a variety of horses; competitive hunter/jumpers, dressage athletes, trail horses, and all-around horses of 'leisure'; those without regular jobs but with owners who love them. The responses I receive from trainers, owners, and horses alike are enthusiastic!
I now reside in Norwalk, Iowa, near Des Moines, Iowa. You can reach me via email, phone, or text.