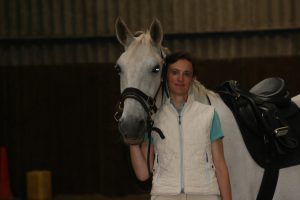 Based in Devon but happy to travel throughout the southwest of England (and some parts of South Wales), Jane came to equine bodywork from a background of dressage riding/training/judging, particularly classical dressage. She is constantly seeking to further her knowledge of the horse's musculature and biomechanics, and of how best to help both horse and rider to greater ease, comfort and efficiency of movement.
Jane originally qualified as an equine massage therapist, but the search for more 'tools for her box' led her to the Masterson Method®. Having seen a video clip of Jim working, she tried some on her own horses and was so impressed by their responses that she immediately ordered the DVD and book, and booked herself onto all the courses! She has never looked back, qualifying as a Certified Practitioner in 2016.
Jane has also undertaken further training in myofascial release techniques, equine acupressure and laser therapy. She incorporates these into her work with horses, finding them highly complementary to the Masterson techniques.
Jane is also a qualified Master Saddle Fitting Consultant, a Pilates Instructor, a BHS Accredited Coach and a former British Dressage judge. Her riding and training background is mainly classical and she has worked with classical trainer Sylvia Loch, and had three years' daily training with international rider/trainer/judge Dimitar Stoyanov at a Trakehner stud farm in Bulgaria. She has also been inspired by, or learned with, Anja Beran in Germany, Georges Malleroni in Portugal, Charles de Kunffy, Dr. Gerd Heuschmann and many more.
As well as performing equine bodywork, Jane continues to teach riders, and finds that the Masterson principle of staying under the horse's brace response is invaluable in training, whether on the ground or in the saddle. Jane particularly enjoys working with grass-roots combinations and using dressage exercises, as well as therapeutic groundwork alongside the bodywork, to help the more 'ordinary' horse to become a more comfortable and responsive ride, whether for hacking, all-round pleasure or competition.
Facebook: https://www.facebook.com/FlexibleHorseJanePenfold/
Phone: 07711 130371