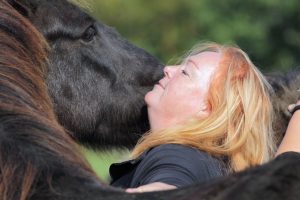 Hoi, mijn naam is Jamila Brummel en ik ben al vanaf jonge leeftijd begaan met dieren en in het bijzonder met paarden. Mijn leven is inmiddels helemaal verweven van het leven mét paarden op mijn eigen erf, ik ben trainer, fokker van IJslandse paarden, ruiter, gedragstrainer, reiki practitioner , holistisch energetisch therapeut ,maar bovenal mens . Mens die als passie heeft het leven van mens & dier, maar ook van mens MET zijn dier, zo helder mogelijk te maken. Helder in de communicatie, helder in het werken en zijn met elkaar.
Kortom: Mijn werk is middels behandelingen (paard) en coaching en behandeling (mens) bijdragen aan WELZIJN VAN MENS EN DIER.
Mijn bedrijf heet dan ook: Frá Loar – Welzijn voor mens en paard  
Voor wat betreft het werken met paarden: Na een aantal jaren te hebben gewerkt als gedragstrainer voor paarden, besloot ik dat er een missing link was, want ik wilde zachter werken, rustiger op een meer effectieve manier die op wederzijds respect gebaseerd is. 
En zo kwam ik via Wendy Murdoch bij Sharon Wilsie terecht waar ik de academie voor Horse Speak volg. En via Sharon Wilsie /Horse Speak kwam ik op mijn Masterson Method® pad. Want het werken MET het paard in plaats van AAN het paard is precies de missing links die ik zocht in het behandelen van een paard. 
Doordat we met de Masterson Method® behandeling altijd kijken naar de signalen die het paard aangeeft en dit volgen en zien, naast de kracht die vaak juist zit in het stuk verzachten, krijgt het paard alle ruimte om spanning los te laten en daarmee weer optimaal te kunnen bewegen. Helder toch?
Ik ben opgeleid als holistisch energetisch therapeut en neem mijn kennis daaruit ook mee in de behandelingen. Mijn kennis van Chinese geneeskunde, Reiki, Horse Speak (de taal van de paarden), Acupressuur en mijn kennis vanuit de Chinese elementenleer, Bachbloesem remedies, het werken met essentiële oliën, zijn ook paraat. Ik geloof in holistisch werken, kijken naar het geheel, waar komt evt. spanning of scheefheid vandaan? En, ik werk graag in gesprek met het paard, en geef hen graag een stem in dat wat zij mij willen vertellen dat ze nodig hebben. 
Hi, my name is Jamila Brummel and I have been involved with animals and especially horses from a young age. My life is completely intertwined with living with horses on my own property, I am a trainer, breeder of Icelandic horses, rider, behavioral trainer, reiki practitioner, holistic energetic therapist, but above all a human.  A woman whose passion is to make the life of man & animal, but also of man WITH his animal, as clear as possible. Clear in communication, clear in working and being with each other.
In short: My work is through treatments (horse) and coaching and treatment (human) to contribute to WELLBEING OF HUMAN AND ANIMAL.
My company is called: Frá Loar – Welzijn voor mens en paard (translated) Wellbeing for man and horse.  
As for working with horses: After several years of working as a horse behavior trainer, I decided that there was a missing link, because I wanted to work in a softer, calmer way in a more effective way based on mutual respect.   And so, through Wendy Murdoch, I came to Sharon Wilsie where I attend the academy for Horse Speak. And through Sharon Wilsie /Horse Speak, I came on my Masterson Method® path. Because working WITH the horse instead of ON the horse is exactly the missing link, I was looking for in treating a horse. 
Because with the Masterson Method® treatment we always look at the signals the horse gives and follow and see this, in addition to the power that often lies precisely in the softening part, the horse gets all the space it needs to release tension and thus be able to move optimally again. Pretty clear right?
I am trained as a holistic energetic therapist and take my knowledge from that into the treatments. My knowledge of Chinese medicine, Reiki, Horse Speak (the language of the horse), Acupressure and my knowledge from the Chinese element theory, Bach flower remedies, working with essential oils, are also available. I believe in working holistically, looking at the whole, where does any tension or crookedness come from? And I like to work in conversation with the horse, giving them a voice in what they want to tell me what they need.