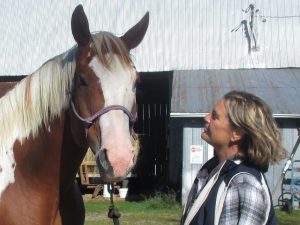 Jacinthe is one of those people who thinks nothing happens by chance. We meet situations, people and animals for a very specific reason, and that reason is to be a better human being. She was raised in the suburbs of Montreal and did not have access to horses but dreamed to. Later on, as an adult, she moved into the country, on a small acreage and got her first horse. Jacinthe is now the proud guardian of 3 of those magnificent animals. Unfortunately, horses often come with issues. She was looking for a way to help her own when she came across Jim's bladder meridian video on YouTube in 2021. Since then, The Masterson Method® has become a central part of her development as a horsewoman. She became addicted to the method. This method is so phenomenal, it changes lives! Jacinthe completed the certification process in August 2022.
The Masterson Method® is a great way to help horses to feel and perform better! Embracing and practicing The Masterson Method® is about caring for the horses and their owners. It's also about giving your best during a session to help the horse and its owner to meet their objectives, in sport or leisure. It's about being compassionate, deeply respectful of everyone's struggles, traumas, wounds and allowing people and horses to be just who they want to be, without judgement. It's all about working with the horse and not on the horse! Listening to the horse and be as soft and light as possible!
Jacinthe is now living in the Upper Laurentians and is offering her services in the province of Québec.