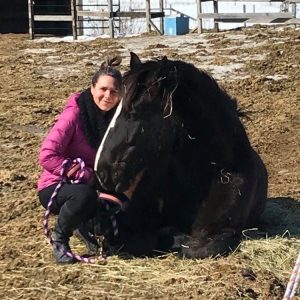 For as long as I can remember, I've had a deep love of horses. Every year, my parents would take me to the local agricultural fair and give me a pony ride. It was the time of year I looked forward to most. It was my only real contact with horses. Otherwise, they occupied my imagination in all my games. It wasn't until late in my adult life that I decided to explore contact with horses again. I started with one lesson a week, then two lessons a week. Then I shared the board of a horse from my riding school, before finally adopting my own horse. I quickly became overwhelmed by this magnificent passion for horses. I wanted to be part of their world. Horses have given me so much in my life that I wanted to do something good for them too.
I stumbled across a podcast on the Masterson Method®. It immediately piqued my curiosity. I ordered the book and, to my astonishment, discovered that there was a weekend seminar in my area. I signed up immediately and the adventure continued until my certification in May 2023.
I sincerely believe that this is the path I had to take; to wait for this maturity to really be able to have this privileged contact with horses. When I do a Masterson session on a horse, time no longer matters. It's just him and me, and that's when I really feel I can help him feel better in his body, make a difference for him. I feel grateful and privileged to be able to experience these moments every time.