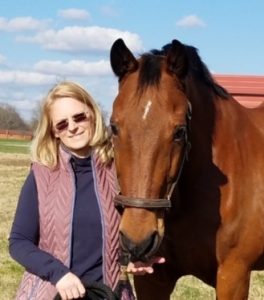 Iris was born with the horse gene and has always been drawn to horses. At 12 years old her parents finally signed her up for riding lessons at the local riding school in their hometown in Germany. The barn quickly became Iris's second home and she was lucky to be taken under the wing by several exceptional horsemen and women. Throughout the years she held several different positions as young rider representative, assistant instructor, assistant to the therapy riding program and as the patron of the school horses she learned very quickly that the saying "healthy as a horse" was a big myth. With the veterinarian and farrier on speed dial, she realized the need and effectiveness of other modalities such as massage, nutrition and acupuncture, etc. to improve comfort and general health in our horses.
Iris met her "Mr. Perfect" and future husband during an exchange program between American and German universities. After traveling back and forth between countries for a while, they decided to get married and settled in Charlotte, NC. Of course she could not be without horses for long and started learning her way around the local equestrian community.
Iris discovered the Masterson Method when she was invited by a friend to watch a demo for horse massage. This massage technique was very different from what she had seen before and immediately started learning more about it, enrolled in the Masterson Method training program and achieved her certification in 2019. She has worked with a variety of different horses from 3 – 25 years of age including all kinds of breeds, sizes and disciplines from hunter jumpers, dressage horses, trail horses, eventers and driving horses.
Recognizing early stages of compromised performance will improve our equine athletes chance to stay physically and mentally comfortable and sound to perform their jobs successfully. Iris strongly believes that the Masterson Method is a proactive way to promote long term soundness in our horses.
Iris is based in Charlotte, NC and would be honored to work with you and your horse.