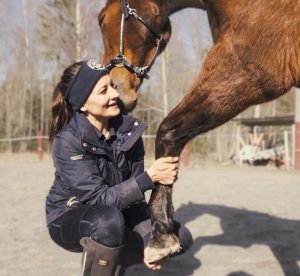 Inese has been around horses for almost 30 years, about 3/4 of her life. She has been active in showjumping in her homeland Latvia in her teenage years, but later became a "happy hacker" enjoying R+ and horse liberty training & putting relationship with her horse first. She sees Masterson Method not only as a powerful and effective bodywork method, but also as a wonderful tool for creating a special relationship with the horse, as well as a form of mindfulness for the person who's working on the horse. Therefore, Inese believes that every horse owner would benefit from learning Masterson Method basics.
 As a human healthcare professional (occupational therapist) who's deepened her academic knowledge even in human exercise physiology, Inese has a profound understanding of the physiological, neurological and psychological effects of manual therapies. She's convinced that preventive equine healthcare in form of prophylactic bodywork and biomechanically correct training is incredibly important for maintaining our horses' health throughout their lives.
 In 2023, Inese will be offering Masterson Method demo events (incl. teaching the participants a few light-touch techniques) for those who are interested in learning more about Masterson Method. Please contact Inese if you're interested in hosting a Masterson Method demo at your barn.
Certified Masterson Method practitioner (MMCP): 2017
Final year occupational therapy student (graduating 6/2023)
Equine related continuing education: equine ergonomics & saddle fit basics, several whole horse dissection clinics, fascia & trauma release, biomechanics and rehabilitation, equine podiatry, taping etc.