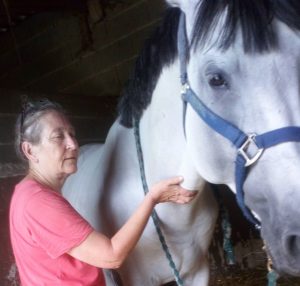 Cavalière depuis mes 12 ans, j'ai toujours passé énormément de temps à préparer mes montures, cherchant leurs points de pansage préférés, promenant mes mains sur leurs masses musculaires dans le but de leur apporter du confort. A cheval, mon plus grand plaisir est le retour au calme de fin de séance, le nez par terre, le cheval relâché.
Et puis, on m'a offert un livre « Masser son cheval, soulager douleurs et tensions musculaires » de Jim Masterson. J'ai trouvé la méthode très (trop) simple et l'ai essayée sans conviction… Et j'ai été surprise de son efficacité ! Je l'ai testée sur plus d'une quinzaine de chevaux avant de me décider à participer à un week-end de démonstration et de mise en pratique des techniques. J'en suis ressortie avec de nouveaux gestes à expérimenter. Mes interventions MM avec les chevaux en ont été plus performantes.
Après plus d'un an de pratique et encouragée par des professionnels (cavaliers, enseignants, maréchaux ferrants, …), des cavaliers et des propriétaires, j'ai décidé de faire la formation complète.
Maintenant diplômée, je réalise pleinement à quel point cette méthode correspond à ma personnalité, à ma vision du cheval, tant au niveau de son travail que de son confort : elle est basée sur l'observation et la collaboration avec le cheval ! J'aime la façon dont chaque cheval s'approprie la MM.
Je suis heureuse de pouvoir remercier les chevaux de leur générosité, et de partager ces connaissances avec les propriétaires et tous ceux qui les entourent.
Translation:
Ever since I rode my first horse when I was 12 years old. I have always enjoyed spending time preparing the horse– during the grooming process, letting my hands search his body for his favorite spots, bringing the horse comfort and well-being. Once on the horse's back, the moment I have always liked most is the final cool-down, nose to the ground, released.
Then, friends gave me a copy of the Beyond Horse Massage book. It seemed very simple to me (overly simple?), so I was somewhat reluctant when I tried it… I was so surprised to see how effective it was! I started working with any horse I could and decided to register for a Masterson Method® weekend seminar. My MM actions became even more powerful.
After a year of practice, encouraged by professional (riders, coaches, farriers, …) as well as amateur riders and owners, I decided to register for the full certification program and studied to become a Masterson Method® Certified Practitioner.
Now, fully qualified, I realize how much The Masterson Method® fits in with my personality, my way of seeing horses as much for their work as for their well-being: it is based on observation and collaboration with the horse! I love the way each horse makes The Masterson Method® his.
I am very happy to be able to thank horses for their generosity and also happy with the prospect of sharing this knowledge with owners as well as all others involved in caring for horses.