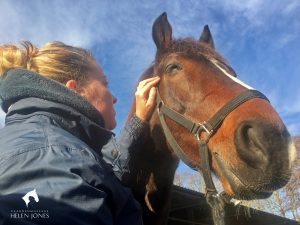 Al van jongs af aan is Helen een paardenliefhebber in hart en nieren. Tijdens een clinic van Mark Rashid in Schotland merkte ze op hoe groot de impact van fysieke spanning op het mentale welzijn en het gedrag van paarden kan zijn. Dit was voor haar aanleiding om een paardenmassage opleiding te volgen, om paarden te kunnen helpen zich lichamelijk fijner te voelen en daardoor vrolijker en opener te worden.
Door haar ervaring als massagetherapeut en door te leren over natural horsemanship werd ze steeds beter in het lezen van de lichaamstaal van paarden. Paarden geven ons continu signalen en doordat de Masterson Method® nu juist precies dat als uitgangspunt heeft, spreekt deze methode haar enorm aan.
Helen is altijd op zoek naar meer kennis om zich verder te ontwikkelen. Ze heeft opleidingen gedaan tot allround masseur voor paarden en Myofasciale Release Therapeut en natuurlijk tot Masterson Method® Certified Practitioner.
In de praktijk gebruikt ze de technieken van de Masterson Method® het meest. Deze technieken zorgen er namelijk voor dat ze paarden met verschillende uitdagingen, behoeften en van alle temperamenten kan helpen – ook zeer sensibele dieren.
Ze voelt zich bevoorrecht om te weten hoe ze haar handen kan gebruiken om spanning los te maken en paarden zo meer plezier te brengen en beter te laten presteren. Dit doet ze met veel gevoel en geduld.
Helen woont in Haarlem maar werkt regelmatig in andere delen van Nederland, dus aarzel niet om contact met haar op te nemen!
Facebook Pagina: http://www.facebook.com/paardenmassagehelenjones
ENGLISH:
Helen is a lifetime horse enthusiast. It was during a Mark Rashid clinic in Scotland that she realized how big an impact physical tension could have on the mental well-being and behaviour of horses. This prompted her to start studying massage therapy as a way to help horses feel better and open up and become happier.
Through her experience as a massage therapist and lessons in natural horsemanship, she advanced her skills to read the horse's body language. Horses constantly display physical signals and she loves that the Masterson Method® uses exactly this as a basis for the bodywork.
Helen is always eager to continue her journey of learning. She is trained as an all-round massage therapist for horses, Myofascial Release Therapist and of course as a Masterson Method® Certified Practitioner.
In practice, she uses the techniques of the Masterson Method® the most, because these techniques allow her to help horses with different challenges, needs and of all temperaments – even very sensitive animals.
She feels privileged to know how to use her hands to release tension and bring horses more joy and better performance through greater relaxation and comfort. She does this with great sensitivity and patience.
Helen is based in Haarlem but can be regularly found working with horses in other parts of the Netherlands, so don't hesitate to drop her a message!
Facebook Page: http://www.facebook.com/paardenmassagehelenjones