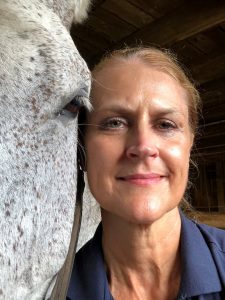 Helen has been passionate about all things horses for all of her life.  After becoming a horse owner 30 years ago, she also became passionate about horse therapies to aid in performance, recovery, and rehabilitation.  Her interest in therapies led her to become a certified Equine Sports Massage Therapist and a Masterson Method® Certified Practitioner.  Helen has continued to learn by taking continuing education classes with a local veterinarian / equine osteopath.
After working on several horses with performance issues related to saddle fit, Helen started taking courses in saddle fit with the North American Saddlery School.  She is currently a trainee with the Society of Master Saddlers and continuing to learn about saddle fit and tack repair.
Combining equine therapy and bodywork with her knowledge of saddle fit allows Helen to work with each horse in an individual way to help resolve performance issues as well as help in recovery and rehabilitation.
Through her practice, HEquine, LLC, Helen works with a diverse group of clients including dressage, eventing, pleasure, and therapy horses in both body work and saddle fit.
Helen works in Maryland, Northern Virginia, and Pennsylvania.