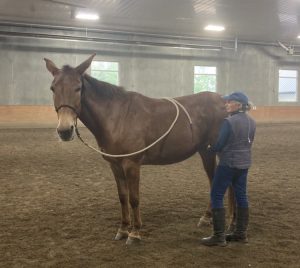 Heather has always been attracted to horses and animals, and looking for better ways to interact with them.
After taking a break from riding to raise four children, she encountered a horse that sent her searching for more knowledge.  She found the help she needed by studying natural horsemanship, but during that time, heard rumblings of improper movement and undeveloped top-lines.  Curiosity then led her to Dressage Naturally,  where she learned how to create better movement, and what that movement felt like to ride – it was addicting! During this time she competed successfully in Cowboy Challenge and Working Mountain Horse competitions.
Now knowing how proper movement looked and  felt, she had to find a solution for when something felt "off".  This was when she dove into the Masterson Method®.
During the covid break, Masterson Method® videos kept popping up on Facebook which caught her attention.  She went out in the cold Alberta winter to try it out and was amazed at the responses from such subtle touch, and especially how the horses' feedback is acknowledged and used to guide the sessions.  For Heather, it was like taking a big sigh and realizing that this was how she would be able to give back to the horse.
Certified in the Masterson Method®, she is prepared to enhance your horse's well-being, offering her experience with a selection of breeds, including mules and miniatures.  She will tailor her approach to the specific needs of each horse, considering factors such as discipline, age, and physical condition. Located in Vegreville, Alberta, she is ready to travel up to 1.5 hours to share her expertise with you.