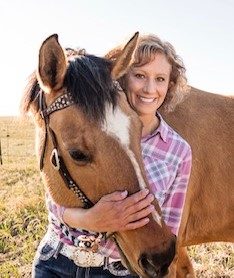 Gina grew up in southern Ohio with lots of family in Louisville, KY. As a child and into college, the racing world was nothing but good, as that was her only exposure. She has been in Colorado for 28 years but never imagined she would get back into horses, let alone start an equine business.
In 2006, Gina's daughter Abby was born and it was quickly realized that Abby had significant special needs. As parents, they were told she would not walk or talk and would need a feeding tube. Multiple specialists told them not to even bother trying, as it was hopeless. Abby did none of those things, she never cooed, she never babbled, she never even picked up a toy, let alone try to roll over or crawl, but she did cry 22 hours a day for 2 years. "Hippo-therapy" was recommended by a neurologist very early on, but for safety reasons, they had to wait until she was two years old. Just days after turning two, they put Abby on a horse with the help of volunteers and a physical therapist. Within three sessions, the crying stopped (later determined to be seizures), she started babbling, then three months later she crawled, and a year later she walked. At age 5, Abby could say words on a horse but not while on the ground. A true miracle!
Shortly after, Gina began to ask questions about the amazing horses who did this job, as none of it seemed "natural" for a horse. Horses are not made to stand still for hours, walk in circles while unbalanced riders play games, or be asked to take care of such precious cargo. This led Gina down the path of equine wellness and because their family needed these horses, she wanted to know how she could take care of them. That led to volunteering for a therapeutic riding center, as well as a horse rescue, as she realized that is where she could really learn how to care for not only therapeutic horses but for the sickest and most injured rescue horses. She also learned the fate of so many OTTBs and it became a mission to care for the ones "thrown away".
The Masterson Method was the first modality Gina took interest in because there just happened to be a weekend seminar at the therapeutic riding center. This directly changed the course of her life. She needs horses to take care of her daughter, and honestly, herself, so she has made it her mission to take care of the horses (both therapeutic and rescue) who take care of the people, and to share this modality with everyone who will listen. This has led her to open an equine rehab, as well as start a lesson program where they teach people how to put the horse first so that they are ready to ride. She absolutely believes the Masterson Method should be incorporated into every program.
Gina also has a mustang rescue called For the Love of Aria. We get mustangs out of holding and after helicopter round ups and being in small holding areas for sometimes years, their bodies are not in the best condition. We have been using the Masterson Method® not only to help their bodies but it has become an integral part of our gentling process as well. One of our favorite mustang trainers has even taken the weekend seminar because she can easily see the benefit for the horses, mentally and physically. Helping the whole horse makes the transition to domestic life so much easier.
Gina's goal in doing the best thing for the horse is to have a team that collaborates, on a professional level, and so far, she is lucky enough to see this goal met, week after week. Her next steps include getting her MMES (Masterson Method Equine Specialist) Certification, as well as focusing on saddle fitting and natural hoof care.
"Earning my MMCP Certification has been one of the most rewarding events of my life, as I get to see lives changed on a daily basis. And this is from someone who has multiple degrees and had three very successful careers. But I have found my purpose and am grateful to Jim and every instructor, coach and mentor, as well as every staff member behind the scenes, as this is an elite group of people doing so much good. Being able to call myself part of this group is a dream come true. Our herd of 12 now, appreciates that I took the time to learn from the best."
I am on FB and Instagram as @alleycatequine.
Elizabeth, Colorado , United States