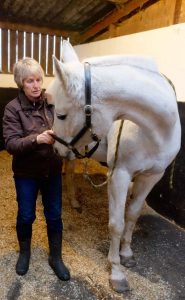 Gilly has always had a connection with horses and began riding at a local riding school at the age of seven. Purchased her own horse as soon as she started work and has own horses ever since. Competing in Show Jumping, Eventing and dressage at grassroots level.
Over time has become more interested in a more holistic approach to keeping horses and understanding their needs. Which lead her down the path to Marijke de Jong and Straightness Training, dressage through classical principles which has given her a through understanding of equine biomechanics and a deep understanding of how horses act as a horse.
Gilly discovered Masterson Method which fitted in the path she was now treading and began using the techniques on her own horse and loved the reactions and the connection with the horse. So inspired by the method Gilly went about becoming a certified practitioner.
Gilly's main aim is to help horses and their owners. Giving the horses every chance of reaching its full potential and advising the owner what is needed going forward.
Burton on Trent , United Kingdom