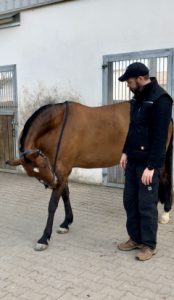 Why did I become an MMCP? Rather random. My wife has always had horses, I never was interested until we found our Lusitano mare (bred by Michaela Kleba) in Portugal in 2018.
To cut a long story short, I guess my wife was deeply concerned that I would start riding (hmmm)…and suggested I attend a Masterson Method® weekend seminar instead. Since then I stand non-stop beside horses "searching for a blink" and "helping 'em to relax", as the school slang goes.
But joking aside: what excites me about the method is that it insists on working with the horse rather than working on the horse. It is not just about influencing muscles, joints or fascia, but about a connection, for example, through reading and reacting to subtle responses such as a blink or recognizing patterns of the horse; this makes each session quite individual, and individually instructive for me.
Oberursel, Hessen , Germany